Jan 18th, 2009
Here are some awesome pictures from their Detroit concert.
Jan 18th, 2009

Still really busy, but there is so much I wan't to share with you all! Here the guys are talking with ET about the Inauguration and voting and such! Check it out!
Jan 16th, 2009

Boy, do I have some EXCITING things to update on! I'll start off with the best news of all.... The Jonas Brothers are going to have a Live Chat on Sunday @5pm eastern time! Wow it has been a longg time since they last did one! Make sure you tune in here and you have to make an account in order to talk to them. Well, good luck getting in the main chat room!
Jan 14th, 2009

Exactly 6 days until the,"Tonight" video premiere! Let the countdown rock on!
Jan 13th, 2009
The guys just put up this new you tube video!
Jan 13th, 2009

I was looking at some young videos of the guys when I came across this one! I just had to post it. Kevin and Joe are so cute. I don't wont to spoil the end, but man they have some good parents!
Jan 13th, 2009

Here is a video from the other day when the guys went to the recording studio at Smashbox!
Jan 12th, 2009

Here is another interveiw with the guys! Did they look handsome or what?

Click here to see to one from the Insider!
Jan 12th, 2009
Big Announcement – Fan Family Experience 2009!
Category: Music

Hey everyone!

2008 was an amazing year, and we owe it all TO YOU!

In 2009, we want to work WITH YOU to make this year even better!

As you know, the Jonas family does everything together, and we know you and your friends, the FANFAMILY, do everything together.

You may have heard that our 3D movie is coming out and in the movie, we invite you behind the scenes for the ultimate Jonas experience.

But over the next seven weeks - which will be the busiest seven weeks ever - we're going to work together to create the "FanFamily" Experience!

What is the FanFamily Experience?

There will be a variety of activities and events that allow us to join forces on everything we do this year – from the 3D movie to the World Tour to the release of our new CD. But our first FanFamily project is to make the OPENING WEEKEND OF THE 3D MOVIE the BIGGEST OPENING WEEKEND EVER for a 3D movie.

Besides reading letters and watching some of your videos, we want to GET TO KNOW YOU – the FanFamily - better by working together in some new and exciting ways!

Over the coming weeks, make sure you are checking MySpace, watching YouTube, and listening to SayNow for more details on how to participate in the FanFamily Experience.

We are REALLY excited about working with you, the FanFamily, to make this the best year ever!

Thanks,

JB
Kevin, Joe and Nick

PS: We're really close to finalizing our list of nations and cities for the WORLD TOUR, so hopefully we will be seeing you really soon!
Jan 12th, 2009

Hey everyone here is a video a of the guys wishing everyone a great Valentines Day!

Oh, don't forget their BIG ANNOUNCEMENT today on their myspace page!
Jan 11th, 2009

I find this picture on kevinjonasonline which tells where the guys were going to sit tonight.
Jan 11th, 2009
Okay, yes here it is... The Jonas Brothers presenting Best Animated Feature Film! Credit: myself!
Jan 11th, 2009

I finally got some videos. I will add more real soon! Thanks for checking out my site! Credit: nickjonline
| | |
| --- | --- |
| | Here is a video of the guys being interviewed on the red carpet before the awards started. |
Jan 11th, 2009

I can't get over how great they look tonight!
Jan 5th, 2009

Also, here is a poster for their 3D Movie! I am lovin the colors!
Jan 11th, 2009
The guys are looking mighty fine at the Golden Globes Awards! More coming soon! Credit nickjonline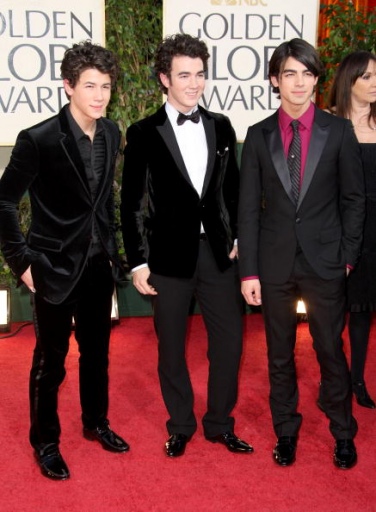 Jan 10th, 2009
Kevin and Joe were spotted at Smashbox Studios today! Maybe they are working on their new record rumered to be released in June!
Jna 6th, 2009
The Jonas Brothers put this new video on their You Tube Channel and their channel has a new look too. Check it out below!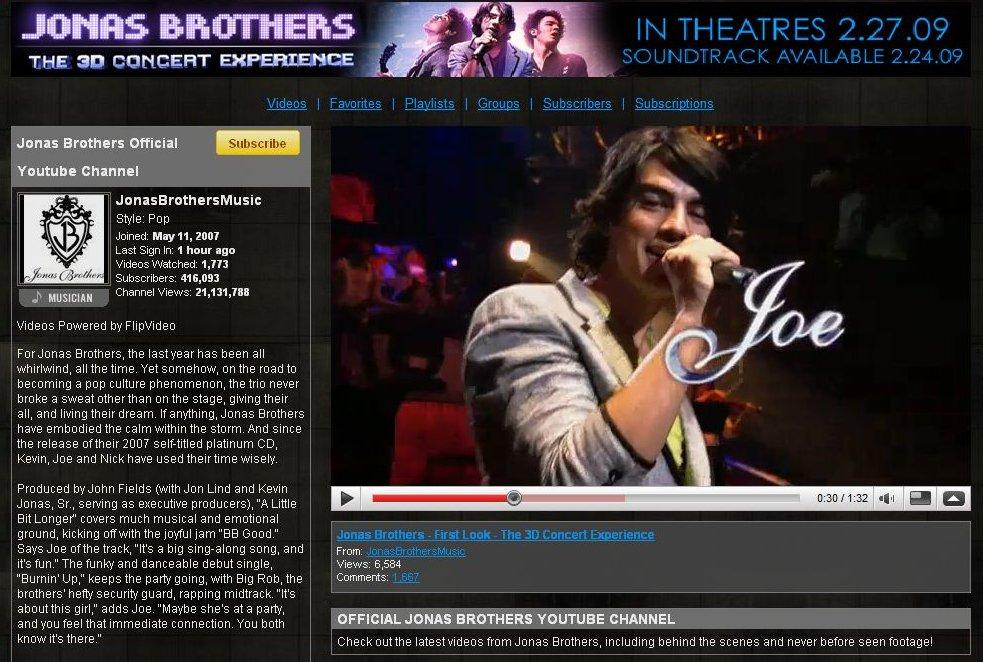 Jan 6th, 2009

Thanks to Joe-Jonas.com I am able to post this very cool video of Jordan Sparks and Joe Jonas!
Jan 6th, 2009

Yay, I am so happy I was able to add this to my page!

I am going to try and keep it at the top of this page! As of now the Jonas Brothers 3D Movie will be out in 51 days!
Jan 5th, 2009
Okay, this is really exciting! The Jonas Brothers Myspace has a new look!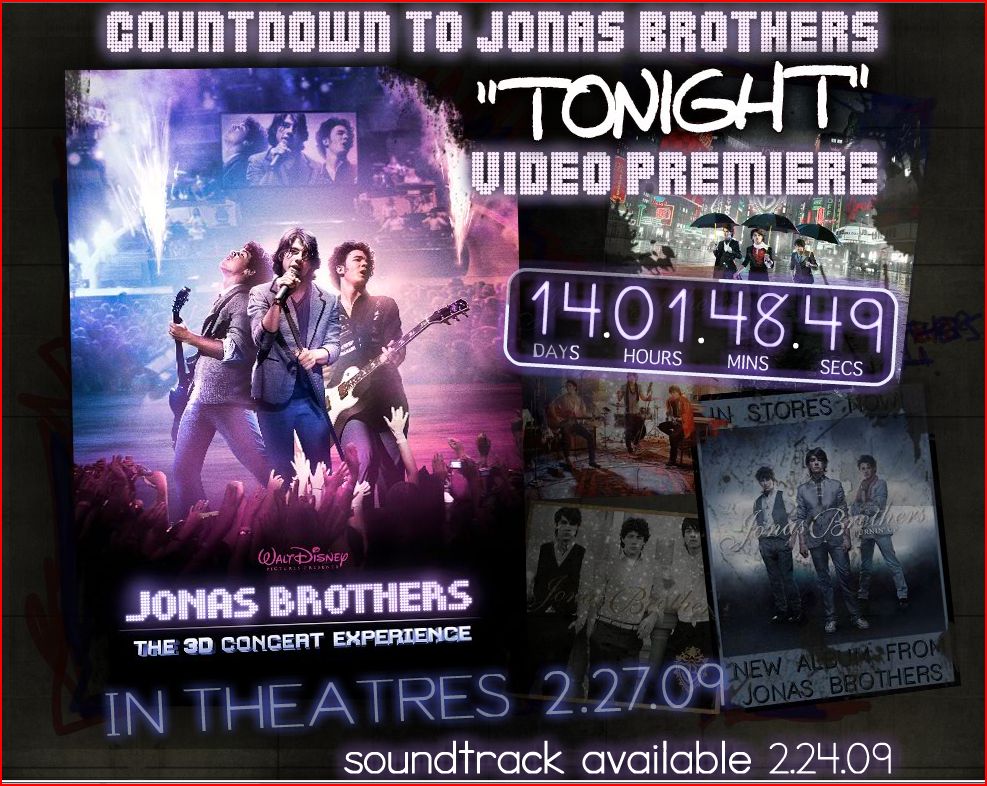 Jan 5th, 2009
Here is a sneak peak of JONAS coming to the Disney Channel in May!
Jan 4th, 2009
2 new shirts at the offical Jonas Store click here to see for yourself!
Jan 3rd, 2009

Nick and Kevin Jonas were spotted at Living Spaces Furniture in Van Nuys, CA. Man, I wish I would be able to spot them somewhere!
Jan 3rd, 2009
Messege from the guys:
From: Jonas Brothers
Date: Jan 3, 2009 11:26 AM
Subject: Nashville Show tomorrow

Body: Hey everyone!

Just wanted to make sure everyone is clear on the details for our show tomorrow in Nashville.

Jonas Brothers and Friends
at the Ryman Auditorium

Doors at 5 PM
Show starts at 6 PM

Look forward to seeing everyone in the Nashville area for this special show!

Thanks

JB
Kevin, Joe and Nick
Jan 3rd, 2009
Watch this trailer of the Jonas Brothers 3D Movie! Look good!
Jan 3rd, 2009
OMJ the Jonas Brothers and Demi are taking over Radio Disney on Tuesday at 6pm eastern time! Also, here is where the guys stand on Radio Disney Top 50! (Thanks to Joe-Jonas.com)
1. Burnin Up- Jonas Brothers
7. When You Look Me In The Eyes- Jonas Brothers
10. We Rock- Camp Rock Cast
13. LoveBug- Jonas Brothers
22. This Is Me- Demi Lovato & Joe Jonas
26. Play My Music- Jonas Brothers
29. Thats Just The Way We Roll- Jonas Brothers
Jan 2nd, 2009
Friday, January 02, 2009
BIG ANNOUNCEMENT!!!
Category: Music
Hey everyone!
We are so excited to start this new year (2009)!!!
We will be making a special announcement through the Fan Club, Street Team, Jonasbrothers.com, MySpace, Facebook, YouTube, SayNow, etc. on…
MONDAY, JANUARY 12TH.
Please get ready to listen and participate in our first BIG EFFORT of the new year.
Thanks,
JB
Kevin, Joe and Nick
Jan 2nd, 2009
These are two lucky girls that got to go on a date with the Jonas Bothers thanks to Much Music TV.
Jan 2nd, 2009
Here are some videos from New Years with Dick Clark! The guys looked so great and they also looked really cold. It was like 19 degrees out there! Oh, Nick was wearing one killer hat!
And bringing the New Year countdown with the Jonas Brothers!
Jan 2nd, 2009
Wow, what an amazing last year they guys have had. Well, I have a lot to update on for everyone! Happy New Years!
Dec 29th, 2008

Joe Jonas is sporting a stash and beard!
Dec 29th, 2008
Hey the Jonas Brothers posted a new blog on their myspace. I had it up for about two weeks, but I removed it because it was really long, but really good too!
Dec 28th, 2008
Hey look the guys are on the cover of USA Weekend! Make sure you go out and get one, I did and I love it!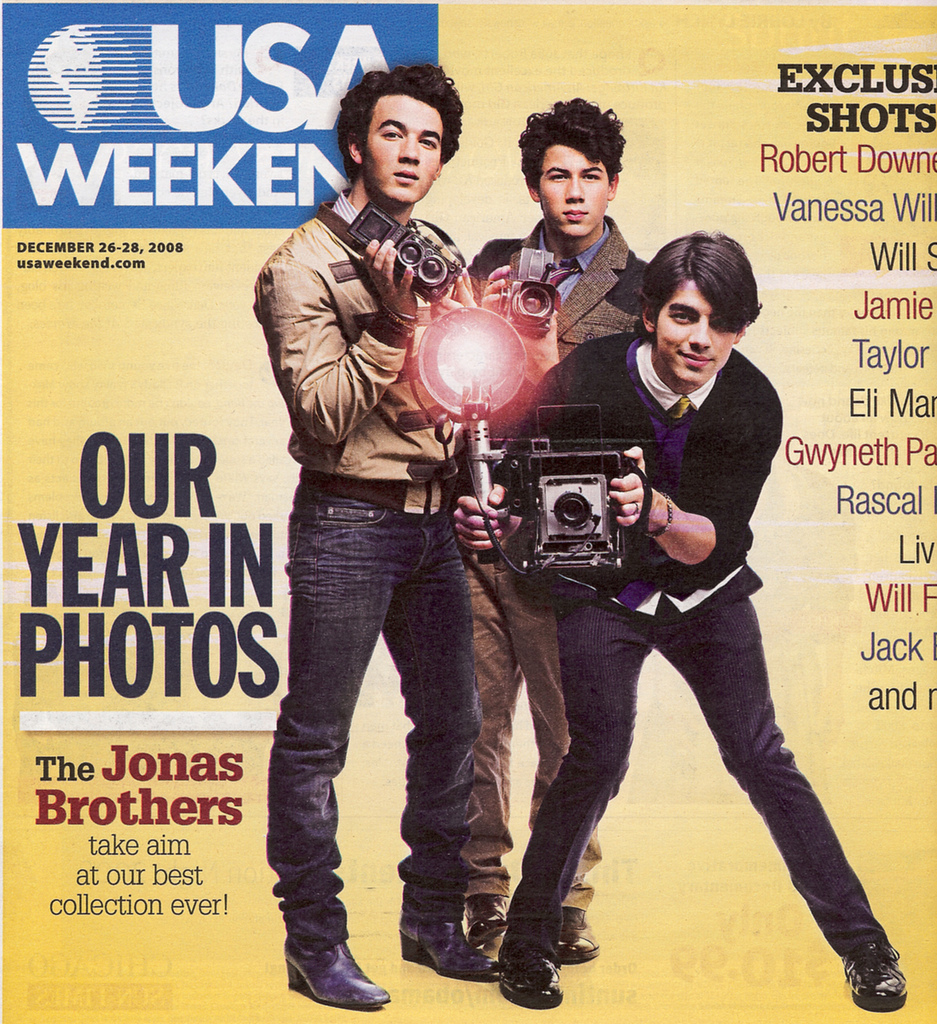 Dec 28th, 2008
OMJ, Nick and Joe made it on OMG's teen hot list! Here is what they had to say about Joe and then Nick-
"Whether you're a fan of his or not, you have to admit that 19-year-old Joe Jonas has a unique sense of style. And yes, those are red jeans."
"I6-teen year old Nick Jonas and his brothers are burning up the charts."
Dec 27th, 2008

Hey everyone, I know it's been awhile, but here are some awesome videos of the guys. The 1st one is from their 3D Movie, then them wishing us a great holiday, and the Christmas Day Parade!
Dec 19th, 2008

Here is a video from ET News about the Disney Christmas Day Parade!
Dec 17th, 2008
Here is the video from the interview that the Insider did!
Dec 17th, 2008
Here is an article The Insider did with the Jonas Brothers and click here to watch a video. They have it where I can't pit it on my site.
The Insider Gets Personal with the Jonas Brothers
"The Insider" spent a day with the Jonas Brothers at the Atlantis resort in the Bahamas as the teen idols got ready for their big concert bash! After spending the day inside their posh suite, sharing lunch and watching them play the piano, the conversation turned intimate and Kevin dispelled the rumors that he's engaged. He also revealed that he's not quitting the group to pursue a solo album and we were on hand as the boys greeted the 40 lucky winners who were flown to the Bahamas by Verizon and Samsung to vacation on the resort island and attend the Jonas Brothers concert. The bros are doing three shows at the Atlantis in 2009 -- in March, April and May. For info on how you can go to those concerts, call 1-800-Atlantis.
Dec 16th, 2008
I just love this video! You can see all the guys! Joe's back is to us though and Kevin and Nick are off to the side. I love it so much. Icould just watch this over and over! Thank you so much NJO for finding these! When I seen this only about 2,500 people have seen it. Lets see how many will see it by Friday? Love it!
Dec 16th, 2008
Oh, my gosh this is to cute! This is a video of Frankie Jonas getting funky at his uncle's wedding! Thanks to NickJOnline for finding this awesome video!
Dec 16th, 2008
This article is from The Bosh
Joe Jonas is inspired by Sir Mick Jagger
The 19-year-old Jonas Brothers frontman - who wears a purity ring as a sign of his pre-marriage chastity - says the womanising Rolling Stones singer is his musical hero and he tries to act like him on stage. Joe said: "I would love to meet Mick Jagger. A lot of what I do on stage is inspired by Jagger. I love the way he performs and how he dances." Even though Joe has a purity ring, the teen star admits he has crushes on several famous women. The musician - whose brothers Kevin and Nick also abstain from sex - added: "I love Leona Lewis. I've been watching her video, she's gorgeous. I also like Natalie Portman, Emma Watson and Cheryl Cole. I like a lot of people." Joe also revealed he hopes any future girlfriend would understand that his work has to come first. He explained: "I need to be with someone who understands I won't be around a lot. It's also important for me to have someone that makes me happy when we talk on the phone. I want to be happy."
Dec 16th, 2008
Here is a video that I was trying to find earlier, but I am going to try for a better one!
Dec 16th, 2008
Check out some more pictures from their concert in the Bahamas at nickjonline.com!
Dec 16th, 2008
Though the other guys are great, vote 4 the Jonas Brothers!
Dec 16th, 2008

Here is another great gift idea for all the Jonas fans out there. It's the new Life Story feat-The Jonas Brothers!
Dec 16th, 2008
The Jonas Brothers were just on Dr. Phil. They gave everyone there a copy of their "A Little Bit Longer" cd. How exciting! I am going to try and find a video!
Dec 16th, 2008
Popstar Magazine spent some time with the guys when they were in the Bahamas and here is a video of theirs.
Dec 15, 2008
Nick has done another blog for Nick's Simple Wins!
Dec 15th, 2008

I looked at this picture and the first thing I thought was,"Man, he is so cute!" Then shortly after I wonder,"Joe has gotta be wishing he could be looking out at the scenery alone without that whole crew!" Don't you think so?
Dec 14th, 2008
Here is a pretty good video of the guys in Atlantis.
Dec 14th, 2008
Here is a video of the christmas photoshoot the Jonas Brothers did with People.
Dec 14th, 2008

At NickJOnline there are some really cool photos of the Jonas Brothers latest photoshoot. Click here to view some!
Dec, 13th, 2008
Top Ten Jonas Brothers Moments of 2008 by Buddy TV
1.) Best New Artist Grammy Nomination (December 2008)
2.) A Little Bit Longer debuts at #1 (#2 A Little Bit Longer debuts at #1)
3 .)The Burning Up Tour (July-September 2008)
4.) 'Camp Rock' mania sweeps Disney (June 20, 2008)
5.) 'Burning Up: On Tour with the Jonas Brothers' becomes a bestseller (November 18, 2008)
6.) 'Jonas Brothers: Living the Dream' Reality Series hits Disney (May-September 2008)
7.) Half-time Show at Cowboys Thanksgiving Day Game (November 27, 2008)
8.) Becoming a part of the Rock and Roll Hall of Fame (August 22, 2008)
9.) Gracing the Cover of Rolling Stone (July 2008)
10.) Look Me in the Eyes Tour (Jan-March 2008)
Dec 11th, 2008

E!'s True Hollywood Story will be doing a show about young Hollywood stars, which will be showing the Jonas Brothers. It will air on E! at

FRI 12/19 8:00pm EP 120 mins
SAT 12/20 5:00pm EP 120 mins
SUN 12/21 12:00pm EP 120 mins
SUN 12/21 8:00pm EP 120 mins
Dac 10th, 2008
The Jonas Brothers album hit #40 on the Rollong Stones Top 50 Albims of the year!
Dec 9th, 2008
Jonas Brothers "A Little Bit Longer" came out in Canada today!
Dec 7th, 2008
The Jonas Brothers opening up their fan mail!
Dec 4th, 2008
Here is an interview from MTV News! They are so happy as are we all! Make sure you vote for them to win their very 1st Grammy, which will air live 2-8-09! Click here for more!
Dec 4th, 2008
Here is a recording from the Jonas Brothers SayNow! The other one is from their co-manger Johnny Wright.
Dec 4th, 2008
Check out this site Disney did for the countdown to the first look at the Jonas Brothers 3D movie thats comes out in February! Check it out!
Dec 4th, 2008
An interview from backstage at the Grammy Nominations. They have come so far this year!
Dec 4th, 2008
Omg you guys the Jonas Brothers were nominated for a Grammy!
Dec 3rd, 2008
This a video of the guys singing Girl of my Dreams in Rockefeller Center!
Dec 3rd, 2008
Jonas Brothers Myspace Blog Reminder:
TONIGHT! - JONAS BROTHERS ON CHRISTMAS AT ROCKEFELLER CENTER
Category: Music
TONIGHT!, December 3 8/7c
NBC heralds the arrival of the holidays with a dazzling display of musical talent and the lighting of the world's most famous Christmas tree during the 11th annual "Christmas in Rockefeller Center" telecast. Hosted by Al Roker ("Today"), the star-studded 76th annual tree lighting extravaganza will feature superstars such as Jamie Foxx, Stephen Colbert, Miley Cyrus, Beyoncé, Tony Bennett, Neil Boyd, Jonas Brothers, Kermit the Frog and Miss Piggy, Harry Connick Jr., David Cook, Rosie O'Donnell and The Broadway Kids, Faith Hill, Rascal Flatts, and Solange Knowles performing current hits and holiday classics from Rockefeller Center in New York City. Prior to the network special, WNBC NBC's New York flagship station, will broadcast an additional live hour of the special (7-8 p.m. ET).
Dec 2nd, 2008
I just love this picture of Nick and his birthday pup Elvis!
Dec 2nd, 2008
How awesome is it to see just Kevin and Nick hanging out together? for more pictures click here.
Dec 2nd, 2008
They added more stuff to their site! Nice hat!
Dec 1st, 2008
Good Morning to you all! At the Jonas Brothers offical site they are having a fan appreciation sale! I don't know how long it will last so go check it out! Click here. Here a few of the things that they have there, but there is more! The best prices I have seen so far!
Dec 1st, 2008

Win a Nick Jonas dog tag at!http://www.tigerbeatmag.com/celebs/
Nov 30th, 2008
Here is a link to watch a video of the guys and their fans going crazy at Barnes and Noble for the book signing! Click here.
Nov 30th, 2008
This is from Just Jared. They sure know how to rock the stage. for more picrtures click here.
Nov 28th, 2008
The Jonas Brothers at Barnes and Noble for a book signing! For more pictures click here.